Exclusive line of Guardian transmitter cases for multiple transmitter models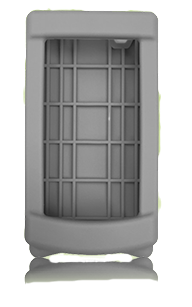 Extend the Life of Your Devices with Durable, Protective Cases
Frequently repairing or replacing your transmitters eats up your time and your equipment budget. That's why we created a line of custom, patented transmitter cases. You can rest easy knowing your device is protected from drops and shocks.
Custom design to fit each transmitter model.
Simple to clean & disinfect.
Shock-absorbing internal frame for durability.
Made of recyclable material.
Single-piece construction so no lost components.
Soft-shell construction for patient comfort.
Protect your transmitters with custom Guardian cases for these brands
SERVICE + QUALITY YOU CAN COUNT ON
Our Customers Come Back Time and Again
"We order Guardians from Sage Services. They come in a pack of 6 and are $495, and are well worth the investment.  We have not had to send a single device in for drop damage since we got the cases for the fleet back in 2016 to my knowledge."
Justin G.
Senior Biomedical Engineer