In the healthcare industry, innovation is critical. Manufacturers are constantly developing new patient monitoring devices or improving current equipment. 
As healthcare technology managers and biomedical professionals, we know you're eager to keep pace with new trends, technology, and tools to improve patient care. 
As the ones tasked with repairing patient monitoring devices and providing replacement parts, cables, and accessories, we also have to stay current and sharp. 
It's why we place a strong emphasis on continuing education, training, and certifications. We work hard to stay on top of what's new and continue to hone our skills. 
Case in point, earlier this year, our technicians were recertified to the IPC-7711 and IPC-7721 endorsement. This widely used standard offers a wealth of industry-approved techniques in rework, modification, and repair of electronic assemblies.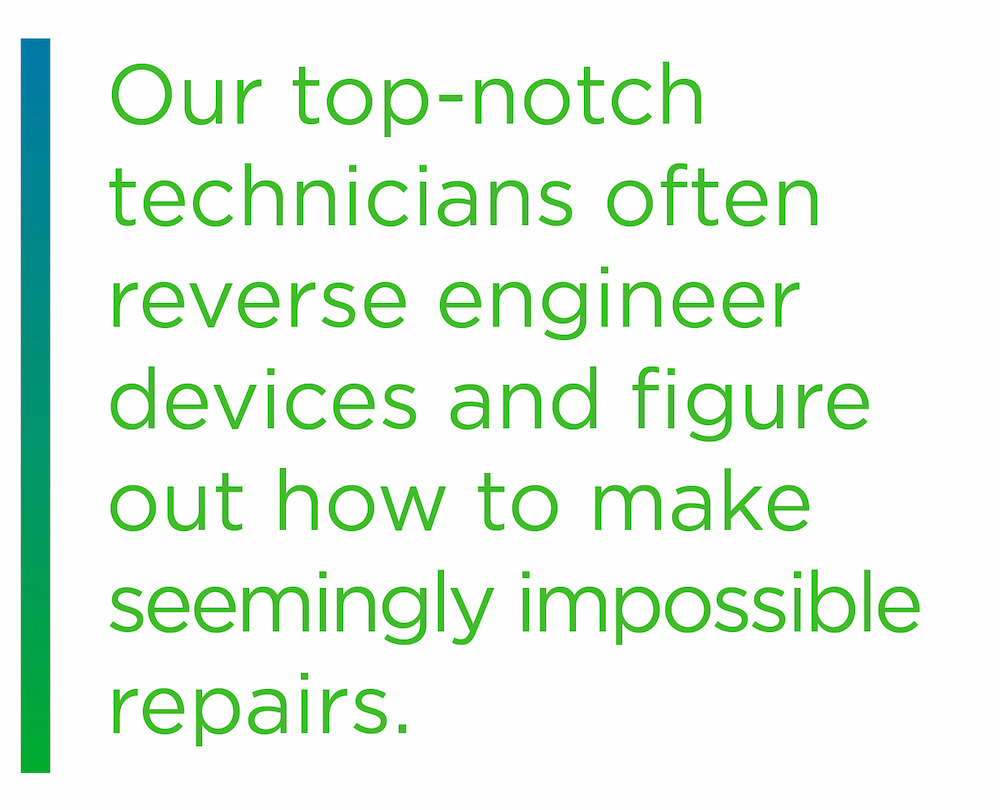 Our technicians are incredibly skilled at repairing patient monitoring devices for our healthcare clients, and meticulously soldering small pieces is a big part of that. It's important they continue to refine their skills and techniques via industry certifications. 
This level of training and skill allows us to repair all sorts of devices. We recently started offering repairs on the new GE MAC VU360™. Or, for those not quite ready to upgrade to this latest model, we can repair the GE Mac 5000 and 5500 ECG machines. 
Repairing your current equipment is a great way to save money. Our skilled technicians can repair your ECG machines so you don't have to upgrade right away. 
Saving money with device repairs 
We're really proud of our technicians. They are problem solvers and willing to go the extra mile for our customers who need complex repairs. 
They have the skill set to troubleshoot and repair devices most people can't. Our top-notch technicians often reverse engineer devices and figure out how to make seemingly impossible repairs. [We're not gonna lie, it's impressive!] 
This is a huge win for our customers who are able to save time and money by repairing existing equipment rather than having to invest in new devices before they're ready to do so. 
And, did we mention our average turnaround time is 5 to 7 days? Read more about our commitment to repairing your devices in a timely manner.
Committed to learning about our customers
And it's not just our repair technicians who are continually learning and growing. 
Our sales team attends trade shows and conferences almost every month. They have the opportunity to talk with current and new customers, healthcare technology managers, and biomedical professionals to keep tabs as a way to keep tabs on industry trends.

We learn about what devices are starting to break down and the challenges healthcare facilities are facing with their equipment. Keeping our finger on the pulse of the industry helps us react quickly to repair needs. 

[Pro tip: Be sure to follow Sage Services Group on LinkedIn so you know which trade shows we're attending. We'd love to talk to you and hear about how we can better serve your equipment needs.]
We know healthcare technology managers often struggle to find a company that can quickly repair patient monitoring equipment and do it without charging a fortune. We repair devices at our state-of-the-art facilities so you can be more efficient with your time and budget. 
Have a device in need of repair? Or, even better, do you have a device you're certain no one can possibly repair? The Sage Services team is up to the challenge!